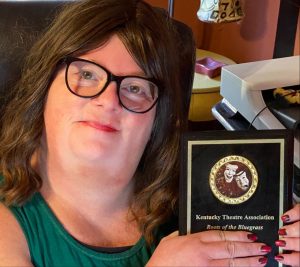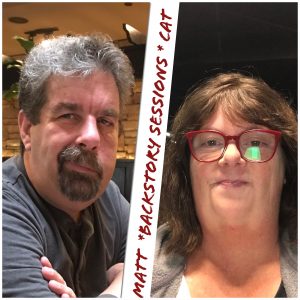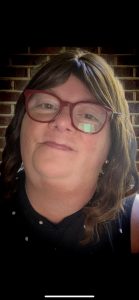 Catherine Rhoden-Goguen, Playwright
Born in Jellico, TN,   Goguen began her writing career before she could even write words. "I always remember being fascinated by dialogue and plots, even before I knew what those terms meant. I used to spend a great deal of my childhood playing with my paper dolls and those homemade ones I tore out of the Sears and Roebuck's catalog. I didn't know at the time I was, "writing" when I would create the elaborate plots or their pretend language but as I began school and gained the skills of the written word, I found it easy to transfer my earlier stories on to paper. And that's how I became a writer. Of course throughout academia, one writes and tries out many genres and I, too experienced the spectrum. I never wanted to describe in 10 paragraphs how a tree looked. To me it was a tree, say it's a tree. Enough said. Move on. That told me I was probably not going to write novels. People watching always fascinated me though and my love for dialogue always drew me back to writing plays."
When asked about what inspires her writing, she spoke very quickly of her second love.
"Teaching was another of the things I feel I was born to do. I believe for most people, they are born with a skill set that influences what direction they should go. Luckily for me I was able to identify the best use of my skills early on and didn't wake up one day and realize I had wasted much of my life in a career that I hated. I spent 25 years in a career that I loved. I taught English, Visual and Performing Arts, journalism and Drama. My school did not have a drama program or a budget when I first was approached about teaching this class, so May I Have Your Attention, Please? was born basically out of necessity. I don't think any of us were aware of the impact the play would have for so many years to come."
You say the play came from necessity? Is that what prompted more of your work?
"I was able to custom write May I Have Your Attention, Please? based on the students I had at the time. For instance, the character of Charlie was written so that a Special Needs student in the class could have a part in the play. Inclusion was always very important to me because I had not always felt that inclusion in high school due to a physical disability I had myself. But the inspiration for the content of the play was the struggles another student had shared with me. I remember feeling helpless as a teacher in solving the problems of this student, but I knew that my writing would have a chance to empower others. It was my chance to no longer be helpless in a broader sense. That changed me. It also influenced what I would choose to write about from that day forward. Since that play, my writings have addressed social awareness issues. The greatest compliment to my writing is when someone says, "Your play changed my life."  I could probably write a play each day and do the cookie cutter approach to writing, but when I write, I want it to be a play that starts the dialogue to effect change. The arts are powerful. Theatre has the potential to bring people together who are otherwise divided. I want my writing to be that which unites and empowers communities…one actor or audience member at a time."
2016 EKDAS first recipient of the Lifetime Achievement Award
Roots of the Bluegrass semi finalist 2010,  for The Dinner Club.
May I Have Your Attention Please?, published by Pioneer Drama in 2003 has been performed all over the US and Canada as well in Great Britain and Ireland. The play won the prestigious Critic's Choice Award at the Wisconsin State Theatre Festival.
Looking for Mr. Right, published by Brooklyn Publishers
Roots of the Bluegrass 2015 runner up for, Boxes , co-written with J. Michael Radford
2016 Ten Minute Play Winner,  Kentucky New Play Series, RE DO IT.
The Most Human published in 2018 by Brooklyn Publishers.
Gorilla Girl, Reading at ArtsPlace, Lexington, KY, 2018
Rainbows, Clouds and Promises, essay in Bearing Up (Personal Essay Publishing Project), winter 2018
Unstoppable By Design, Reading at Winchester, KY March 17, 2019
An Evening of One Acts, Barbourville, KY KPW guest lecturer, May 10, 2019
Blinded By The Light, Kentucky New Play Semi Finalist, 2019
Saturday Night Special, co-written with Matt Rifenburg, Owensboro Summer Shorts finalist 2020
Love and Jello, novel co-written with Matt Rifenburg, 10/2020
Coordinator of KTA's Roots of the Bluegrass statewide playwright competition, 2019-present
KTA Board member (Kentucky Theatre Assosication)