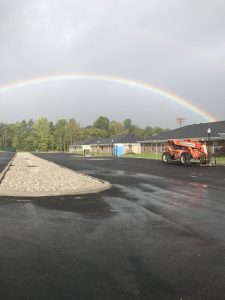 The sound of the rain beating down on the roof has always had a serene and reflective impact on me; much like a warm towel fresh out of the dryer, a handmade quilt on a cold wintry day or the glow and warmth of a fireplace and the aroma of its logs burning. There are just some things that always seem to resonate and warm the soul. When I was younger, I remember my Dad sometimes going out to the car just so he could hear rain on a "tin" roof and him falling asleep there for hours upon end, for like me, the rain resonated with his soul. And that's how I grew up. My Dad and I used to watch clouds together and choose the one we wanted to take a ride on and where we thought its surprise destination might lead. We were both very in tune with nature.
But children don't stay children and at some point we find the end of the innocence and no matter how hard we try to hang on or travel back, it's futile. It's naive to think we can stay in the idylic state of comfort that a good childhood brings but I was lucky enough to carry pieces of it with me through to adulting, like the sound of rain on my roof, or the sight of a particularly unusual cloud floating by and perhaps most profound, the childlike awe of my father who I continued to think hung the moon.
As is often the case, adulting moves one away from where they grew up, as was the case for me. And I found a career, married and had a child, all in the new place that was labeled home but part of me always yearned for the uniting of my childhood and my adulthood. Little did I know that in 2017, my wish would come true. My parents had decided to move from their home my grandfather and dad had built together and where they had lived for the past 50 years to a newly constructed apartment with two bedrooms. Although it was going to be a lot different than being at "home", my dad seemed excited that one of the bedrooms would be his mancave and he could keep all his flea market finds of VCRs, scanners, watches and the like which he collected on our flea marketing trips together. I was so excited that they would be closer to me and that I would be able to spend as much time as I wanted with my parents again.
The day of the move, I awoke to rain. Needless to say rain was not bringing me serenity at that moment but I drove to the apartment to wait on the moving truck and my parents which were en route. I opened the weather app on my phone and it was showing rain for the rest of the day but as I glanced up from the phone, there was a huge rainbow across the field beside the apartment. I hurriedly changed my phone to camera and snapped a photo just as the rainbow was about to disappear. It was my sign that all was going to be ok. No matter how much I had worried about my parents having trouble adjusting from leaving their home of 50 years or the weather and its delay of the move, the rainbow was a promise as old as biblical times and again I sensed that childlike peacefulness and my worries were lifted….until three weeks later.
Imagine you arrive at the hospital to find the person you love most in the world has died. The emotions are so overwhelming and tortuous that one wonders how the body and spirit can handle it, but then somehow it does. Then imagine after that devastating news, you are later told there has been a "mix up" and your loved one is not dead. Then the emotions switch to elation yet you are still in grief and shock mode. Then it all turns to anger as you realize that you will have experienced "death" of that person two times in your lifetime. That is what happened to me at Baptist Health of Corbin, KY on September 21, 2017. I was overwhelmed. I was angry. I was thankful my Dad was alive. But I was unforgiving for the incompetence that left me in the deepest grief I had ever known. This was not a case of my Dad almost dying and being resuscitated. This was a case where a team of Health Care Workers mistakenly told me that my father had passed away. I did not deserve this. No one does. This was the worst day of my life yet some day in the VERY distant future, he would die. No one should have to experience a parents death twice. How could I possibly endure it again?
As I listen to the rain now, I think back on that rainbow and the promise it made to me and then broke, as my Dad died less than 24 hours after the mix up…and this time, it was really him. The rain today makes me miss my dad and wish he could be here to sit in the car and hear it. How did a rainbow get the promise so wrong or was I wrong to believe in the promise in the first place?