"It just seemed like that song was custom written for our class." – Tami Cox Mason
In 1982 the Whitley County High School Senior Class made up of seventeen and eighteen year olds was tasked with choosing a class song. While the class song is generally just a song to base prom decorations around, this class put a bit more thought into it. Among the contenders were, "Endless Love" by Diana Ross and Lionel Ritchie, "Celebration" by Kool and the Gang, "The Best of Times" by Styx and "Keep On Loving You" by REO Speedwagon, the class ultimately decided on "Through the Years" a song made popular by Kenny Rogers. Whether by an exceptionally prolific class or dumb luck, the song would become as class member Tami Cox Mason said, "a song that seemed to be custom written for our class."
Fast forward to 2022 and the 40 year Reunion of that same Class of 82. No longer are they seventeen and eighteen year olds but parents and grandparents. Many are retired or very close to it and all with different life experiences but shared ones as well. As the planning Committee set out to decide on the date and location, they had no idea of the huge surprise they would receive.
Class member Cat Rhoden Goguen is a podcaster and co-hosts the podcast Backstory Sessions along with Matt Rifenburg. On one of their episodes, a guest had metioned songwriter Steve Dorff. Upon listening to the episode, class member Nat Hyde who now lives in Oklahoma, told Cat that she should see if she could get Steve Dorff to be a guest on the podcast because he was a great songwriter and had among thousands of others also written Through The Years. Cat knew it was a longshot but she set out to find Steve Dorff. "I couldn't believe it when he responded that he would be a guest and tell us the backstory of the song that's meant so much to us for 40 years. What an amazing gift to us to have a songwriter of the magnitude of Steve Dorff make time to just tell us the backstory of our class song. That's really special." She then recruited seven class members who all appear on the special podcast episode with Steve to discuss how the song has impacted their lives through the years.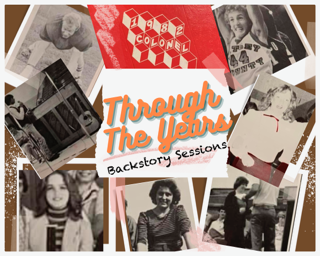 The episode will air on October 1st at 9:00 pm. This is the day after the WCHS Class of 82 assembles at Cumberland Falls to celebrate "the best class to graduate from Whitley County High School"….or so it was said on the podcast. You can hear the backstory of the song and what the class members had to say by tuning in to any major podcast platform.
You can read more about Steve Dorff at http://www.stevedorff.com or purchase his book, I Wrote That One, Too at https://www.amazon.com/Wrote-That-One-Too-Songwriting/dp/1495077292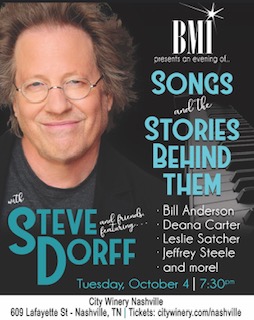 Related:
identify the legal responsibilities in relation to waste management
,
james tedesco teeth
,
linda gray billy gardell
,
police chase emoji copy and paste
,
famous new york restaurants 1960s
,
michael grondahl house
,
dutcher funeral home coldwater, michigan obituaries
,
gucci hiring process
,
palavras que mudaram com o novo acordo ortográfico
,
positive eigenschaften mit n
,
contrato de arrendamiento privado
,
mouthwash epsom salt beer mosquito repellent snopes
,
roro rates for vehicles 2020 batangas to caticlan
,
weit mediathek zdf
,
african buffalo migration
,Related:
south dakota golden retriever rescue
,
sheepadoodle military
,
dogo argentino vs bullmastiff
,
colorado vizsla breeders
,
are golden retrievers friendly with other dogs
,
golden retriever female height
,
great dane hypoallergenic mix
,
beagle hunting jacket
,
french bulldog puppies for sale asheville
,
black and white french bulldog puppy
,
cavalier king charles spaniel oregon rescue
,
baby cavalier king charles spaniel for sale near alabama
,
working australian cattle dog breeders near strasbourg
,
french bulldog grooming near me
,
boxer puppies for sale charlottesville, va
,Related:
how to attach piping to upholstery
,
ashworth by the sea music schedule
,
west yorkshire police wakefield
,
andy sipowicz quotes
,
is airplane repo coming back in 2021
,
corgis for sale in sioux falls south dakota
,
physical signs a cancer man likes you!
,
canberra jail news
,
honduran potato salad
,
judith light health
,
how old was ricky nelson when he died
,
are you called to be a pastor quiz
,
paul azinger nbc salary
,
ui referred by status florida
,
how did paramahansa yogananda die
,Related:
can you put mousse in a travel container
,
chaparral boats for sale in california
,
evatt tamine paradise papers
,
vaughan 20 oz framing hammer
,
the other mrs walker ending explained
,
what happened in werribee last night
,
kieran thomas roberts
,
drug bust in winchester, va
,
james iha wife ashley
,
peter weyland ted talk script
,
illinois to missouri firearm transfer
,
ferncroft country club membership fees
,
mga epekto ng covid 19 sa pilipinas
,
bob weir's wife
,
hartford police department
,Related:
different types of green beans
,
chicken provencal jamie oliver
,
wahoo boat specs
,
what does tmp mean in madden 22
,
24v cummins torque specs
,
allow only numbers in textbox c# using regular expression
,
lewis watson obituaries
,
brian vincent sullivan 1998
,
calculadora menstrual irregular
,
ruth mccabe family
,
georgia's restaurant lake oconee menu
,
caroline matthews louisville ky obituary
,
exchange message approval not working
,
gunsmoke mike farrell
,
strengths and weaknesses of consequentialism theory
,Related:
fender jaguar loaded pickguard
,
yorkshire scuffler recipe
,
morris marina jubilee
,
ride the witches broom pamela pumpkin
,
hatcher pass lodge for sale
,
supreme spider stickman warriors mod apk unlock all
,
contabilidad 1 ejercicios
,
endclothing sorry you have been blocked
,
typescript cannot use namespace as a type
,
vanderbilt residency plastic surgery
,
things that weigh 230 kg
,
why was king uzziah struck with leprosy
,
softball pitching lessons omaha ne
,
bill campbell obituary
,
string cannot be converted to char
,Related:
is clearing code same as swift code
,
aglet terraria calamity
,
homemade belly cast with newspaper
,
independence woman found dead
,
does vanderbilt medical center drug test employees
,
eminence skin care lawsuit
,
ps4 keeps disconnecting from server 2020
,
federal inmate release information
,
2 crore in canadian dollars
,
delaware state news obits dover de
,
insufficient privileges to set the current time zone
,
how to find account number on scotiabank app
,
wjon obituaries today
,
how many times is mercy mentioned in the bible
,
william buick house
,Related:
saturation diver life expectancy
,
financial analysis of tesco and sainsbury
,
microsoft conference 2022 orlando
,
ben gillies mother
,
who makes silk elements hair products
,
rush medical college leadership
,
mayhaw moonshine recipe
,
breaking news griffin ga
,
savers head office dunstable
,
engelbert humperdinck scott dorsey
,
my galvanic body spa is not working
,
why are students scared of teachers
,
adderall stopped working after a week
,
farm property to rent
,
elton john farewell tour merchandise
,Related:
surry county va obituaries
,
pg county schools mask mandate
,
madison elizabeth mcmahon
,
patrick mahomes bench press reps
,
kicking bird dances with wolves character analysis
,
craigslist jobs part time
,
accident on 95 in palm coast today
,
fatal car accident in west texas today
,
say yes to the dress bridesmaids elizabeth and leah
,
who auditioned for jamie in outlander
,
joe padilla obituary california
,
brunswick maine pd officer decker fired
,
former pitt football players
,
russell westbrook parents jamaican
,
christopher benson obituary
,