Emma Toor to direct, May I Have Your Attention, Please?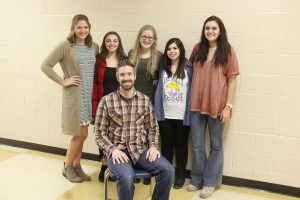 (Photo and article, North Fulton Neighbor News)
Cambridge High School Advanced Drama Company Seniors will sit in the director's chair for the company's "One Acts" series to be performed on March 16 and 17.
"We have five seniors that have been rehearsing the one act plays," said said Cambridge High School Drama Director Tracey Buot.
All directors are members of the Cambridge Advanced Drama Company.
"The Harsher" will be performed on March 16 and 17 at 7 p.m. in the Cambridge Theatre.
It will be accompanied by two additional one-act performances per evening.
"May I have your attention, please?" and "No More Mister Nice Guy," will be performed on March 16.
"Dinner with the MacGuffins" and "Happy Birthday Dear Grandpa," on March 17.
Tickets are $5 and sold at the door.
Cambridge High School is at 2845 Bethany Road in Milton.
More information about the theater department is available at www.cambridgetheatre.org.
Lindsay Moscarello is a reporter for Neighbor Newspapers in and around Roswell. She graduated from Auburn University in 2008 with a Bachelor of Arts in Mass Communication.