Kentucky Playwrights Lecture to be given at Union College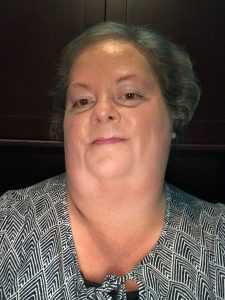 Longtime Barbourville resident, playwright and drama teacher Catherine Rhoden-Goguen has been selected by Kentucky Playwrights Workshop, Inc. (KPW) to give the next Kentucky Playwrights Lecture. The lecture will be held May 10, 2019 locally in the chapel at Union College beginning at 7:30 pm.
William McCann, president of KPW said, "we chose to honor Ms. Rhoden-Goguen's many long years of service to her community and school through playwriting. We believe it is important to recognize playwrights across a variety of fields especially individuals such as Ms. Rhoden-Goguen who focused their attention and talents on writing for high school students"
Ms. Rhoden-Goguen has had three plays published. One by Pioneer Drama of Englewood, Colorado called "May I Have Your Attention, Please?." Two more have been by Brooklyn Publishers, Cedar Rapids, Iowa: Looking for Mr. Right and, just this year, The Most Human.
Acquisitions Editor Lori Conary said, "When I first read Ms. Rhoden-Goguen's play "May I Have Your Attention Please," I knew we had to publish her play. It's topic—teen suicide—is very hard to write about without seeming to make suicide attractive. Her play doesn't do that. Instead, it creates an opportunity for educators, parents, students and children to talk about what leads some teenagers to consider suicide and what individuals can do to help stop this epidemic."
"The play was basically written out of necessity, said Ms. Rhoden-Goguen. "I spent 25 years in a career that I loved. I taught English, Visual and Performing Arts, Journalism and Drama. Knox County—where I taught for most of my career—did not have a drama program or a budget when I first was approached about teaching a Drama class. So I wrote "May I Have Your Attention Please" without being aware of the impact it would have ."
"I custom wrote it based on the students I had at the time. For instance, the character of Charlie was written so that a Special Needs student in the class could have a part in the play. Inclusion was always very important to me because I had not always felt that inclusion in high school due to a physical disability I had myself. But the inspiration for the content of the play were based
on the need to address struggles another student had shared with me. I remember feeling helpless as a teacher in solving the problems of this student, but I knew that my writing would have a chance to empower others. It was my chance to no longer be helpless in a broader sense. That changed me."
"It also influenced what I would choose to write about from that day forward," continued Ms. Rhoden-Goguen. "Since that play, my writings have addressed social awareness issues. The greatest compliment to my writing is when someone says, 'Your play changed my life.'
I could probably write a play each day and do the cookie cutter approach to writing, but when I write, I want it to be a play that starts the dialogue to effect change," Ms. Rhoden-Goguen concluded.
Besides her published plays Ms. Rhoden-Goguen has garnered recognition and success in both Kentucky and elsewhere. May I Have Your Attention Please?, published by Pioneer Drama in 2003 has been performed all over the US and Canada as well in Great Britain and Scotland. The play won the prestigious Critic's Choice Award at the Wisconsin State Theatre Festival.
Within Kentucky her full-length play, Boxes , co-written with J. Michael Radford was runner-up in the Kentucky Theatre Association's Roots of the Bluegrass New Play Contest in 2015. Her play The Dinner Club was a semi-finalist in that same contest in 2010. More recently, in 2016, she won KTA's 10-Minute new play contest with her play RE DO IT.
Ms. Rhoden-Goguen was also awarded the first Lifetime Achievement Award by the EasternKentucky Dramatic Arts Society (EKDAS) in 2016. Phil Neace, president of EKDAS and director of theatre at Perry County Central High School said, "Cathy dedicated her career in public education to the children of Knox County and worked hard to help encourage playwriting and theatre throughout Eastern Kentucky so EKDAS gave one of its first and few recognitions to her in recognition of all she has done . And she certainly deserved it."
The Kentucky Playwrights Lecture is an occasional lecture series sponsored by Kentucky Playwrights Workshop, a non-profit that encourages the development and recognition of the state's many talented playwrights through lectures, seminars and conferences, the Kentucky New Play Series—new short plays produced at the Kentucky State Fair between 2012 and 2016, and the commissioning of new plays.
The 2019 Kentucky Playwrights Lecture will be given on Friday May 10, 2019 in the chapel at Union College. As part of the evening's events readings from several of Ms. Rhoden-Goguen's
Plays will be read by students from area high schools. Tickets will be $10 in advance and $15 at the door.
#Theatre4Change