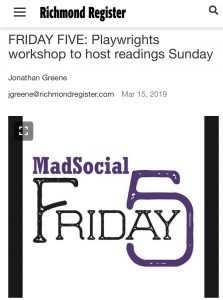 Welcome to the Friday Five, where The Register asks five questions to preview local events or highlight area artists. Kentucky Playwrights Workshop is hosting an open reading of new works for the stage on Sunday from 2-5 p.m. in the Community Room of the Clark County Public Library. One of the plays feature the story of a Madison County resident. Catherine Rhoden-Goguen and Matt Rifenburg provide more details.
1 How did you find out about Matt Rifenburg?
Cat: My father had died in September 2017, very unexpectedly and I had been in the longest trauma and mourning period of my life. Sort of just mindlessly scrolling through things on the internet one night, I saw a post on Quora. The post was by a person in their 20's who was experiencing some hardships and was asking if his life was over. I could relate to that feeling and so I was interested to read the comments. Matt had posted a response outlining struggles in his own life and how he had turned things around by not giving up. Among the things he mentioned was dropping out of high school and then landing a job at Cornell University in the engineering department. Being a former teacher, that piqued my curiosity and I was also touched by the compassion he had shown in his response to this stranger who clearly needed someone to offer kind words. I read a link to an article that had been written about him that was included in his comment and that's when I, without much thought, sent Matt a message to ask if he'd be interested in letting me tell his story through a one act play.
2 Why did you decide to make a play about Matt's life? Matt, how did you feel when Cat contacted you about writing a play about your life?
Cat: The initial attraction to Matt's story was high school drop out who finds success through hard work and that offers hope. I needed to believe that was still true but it had not been my experience as a teacher that those students who dropped out found that type of success. I thought this type play would perhaps be a catalyst for young people. After speaking with Matt however, I quickly discovered there were so many more layers to his life and I was in awe really of him at that point. So many times he could have and most people would have given up but he didn't and I wanted to know why. The conflict was there. The message was there and the writing challenge was there. What I didn't know was that I was the one who needed the message. I would say ironically, Matt saved my life so I could write the story of his. How could I not write his story?
Matt: It was a bit strange and amusing at first, since I didn't know her well at that point. A magazine had previously written an article about me and that worked out pretty well, so I said, " ok" when she asked. I had always felt that my story was only marginally interesting, but Cat was enthusiastic, and allowed me to make changes as I saw fit. The whole process was pretty interesting, and during the course of writing it, and talking to Cat, I began to realize there is more to the story than even I had realized.
3 How did the writing process go for such a unique play?
Cat: The play process began with emails. I would send questions and he was very open in answering anything I asked. It then progressed to texting and long phone conversations and eventually a face to face meeting. I was very mindful of my role in this playwriting experience being different than in my other works. I didn't feel it was my job to make it a more artistic piece than it was. I wanted to stay true to his story. So any edits he wanted, I obliged because again, I was the storyteller moreso than the story creator Luckily, we worked great together and there were very few changes he asked me to make.
Matt: Cat and I talked a bit about the process, and she sent me a ton of questions to get her started, and from my answers she developed the first draft. She did a great job. We spoke a few times about questions she had, and I think it was less than 2 weeks before I read the first draft. We had a couple of long conversations on the phone where we went through the play and made changes to wording, or where something needed to be changed for accuracy. There were many thousands of texts to talking about different things, and the second draft was largely what the play is now. I later changed a couple things that didn't have the feel I wanted after we did a read through with the readers you will see Sunday. We got a lot of great feedback from people who have read it so far, and it is growing into a pretty amazing project, with many future possibilities.
4 Where can people hear the reading of the play?
Cat: Clark County Library in Winchester, KY will host the premiere reading of Unstoppable by Design. It will be on Sunday, March 17 (St. Patrick's Day) at 1:30. It is free to the public and refreshments will be served.
5 What can people expect at the workshop Sunday?
Cat: There will be three plays that receive readings and this event is sponsored by Kentucky Playwrights Workshop. After each play there will be a Q and A session so it's very interactive. I am so very thrilled that we will also have Matt in attendance and he is more than willing to answer questions as well. Richmond is very fortunate, as was I, to have him here and I hope the community who might be looking for a feel good story or perhaps the student who has an interest in engineering and mechanical design will attend. It's free and a great way to support new works of Kentucky playwrights.
Matt: We have 8 amazing readers who have volunteered to do a reading of Cat's latest play "Unstoppable By Design". It is the story of how I went from a high school dropout to designing and building particle accelerators at Cornell University, along with a few roadblocks along that path. There is drama, humor, and flashbacks in the play depicting a few of the events that I have been through. Most people should be able to identify some similarities in their own lives, and leave the play reading with the thought that you don't have to settle for the life you have, and it is possible build the life you want. It will be a unique experience because it is rare that you have both the writer of the play, and the person on whose life the play is based in the same room, and be able to ask questions about it. And, there will be cookies…